"We believe business goes where it is invited and stays when it is well treated. We believe your product and attention to detail is well suited for this combination. We purchased our Ali Arc in 2006, from that time period, it has accumulated 1 million miles, we realize it was one of the best conscious decisions we made for the investment of protecting our truck. I have attached several pictures through the last 11 years. "
"As you can see nothing has changed. We have hit freeway construction barrels, retreads, a truck bumped us in a parking lot, a few stray pheasants, and even a dog took us on. We won."
"We have driven in blowing sand, numerous snow storms, followed the deicing trucks and we always come back to the quality and workmanship that is a reflection of what your company has produced. We have had minimal maintenance. "
"Our best compliment was in downtown L. A. a businessman in a three piece business suit, was crossing the street in front of us, with a briefcase in one hand he put his other hand on one of the bars, tried to wiggle it, with no luck, smiled at Al, gave him the thumbs up sign and continued on his way. There was not one word spoken, however the grin on his face and a nod of his head said it all."
"Thank you for a job well done."
Al and Kym Hemerson
---
"Below is a photo of a 2015 Cascadia that comes to us from one of our customers who was involved in a collision with a 7ft – 1100LB Moose in Ignace, ON, Canada. The customer struck the moose head on at 55MPH (90KM) in the middle of the night. The Ali Arc bumper saved this truck from a total loss. The only damage was a cracked headlight housing and a small 5″ crack to the hood above the headlight. The customer was able to continue and saved thousands of dollars in repair expense and downtime."
"These grille guards work!
Thank you Ali Arc!"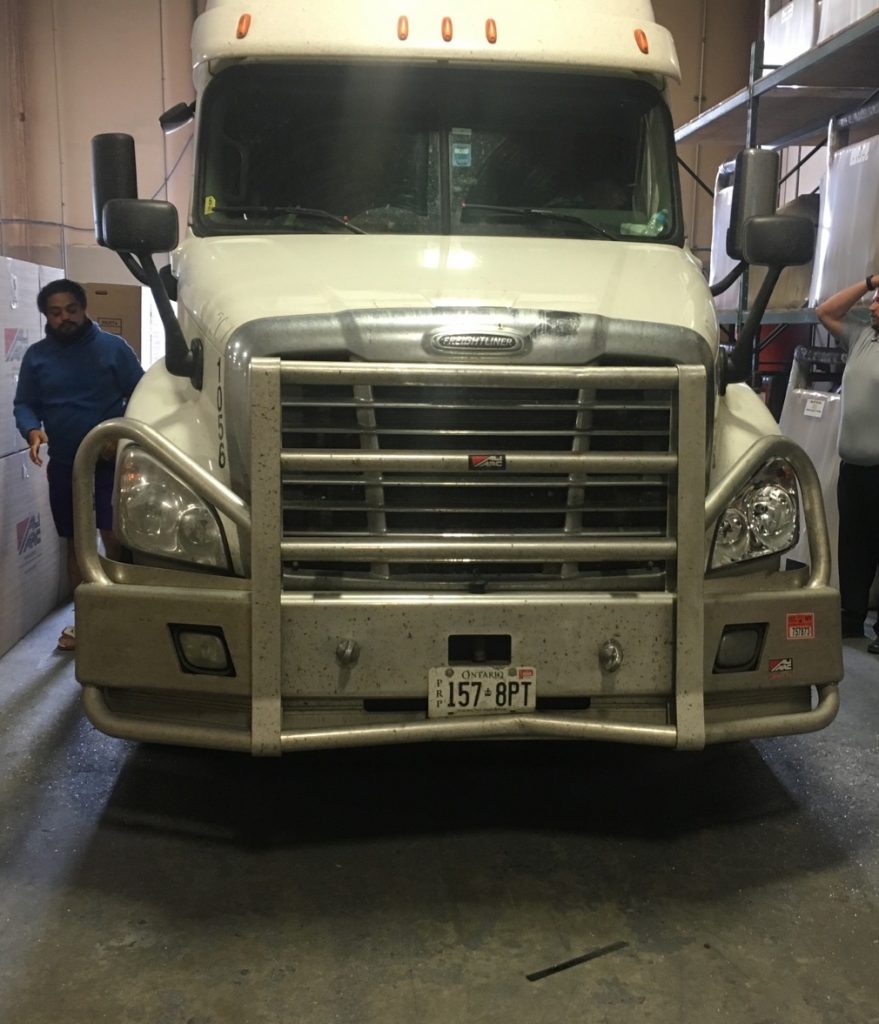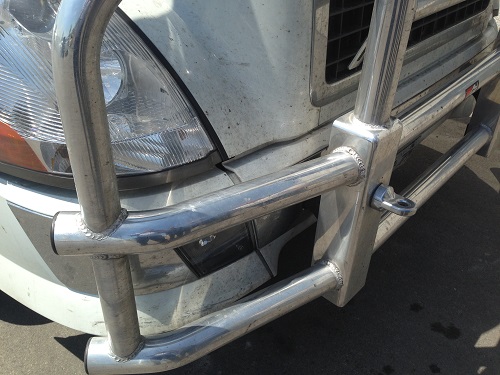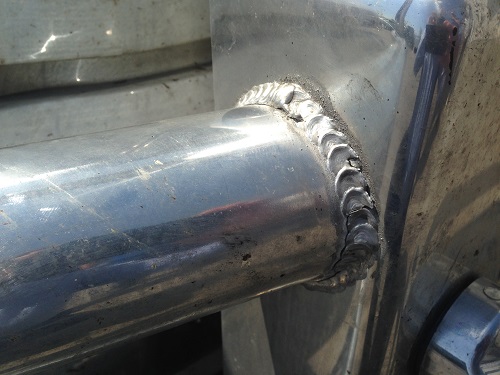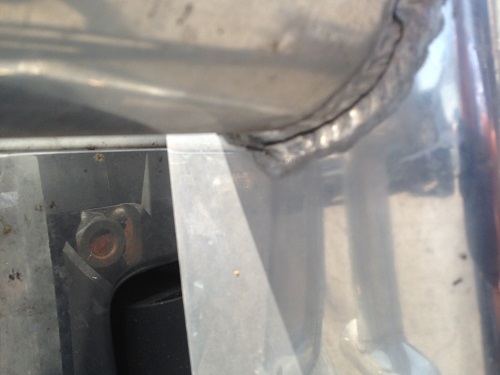 ---
"This bumper is as tough as Nails!"
"This guy was loaded up with 79,500 lbs. The Ali Arc bumper stopped him before there was any real damage to the truck. Thank you Ali Arc for making a great product. "
Gary Hughes Landstar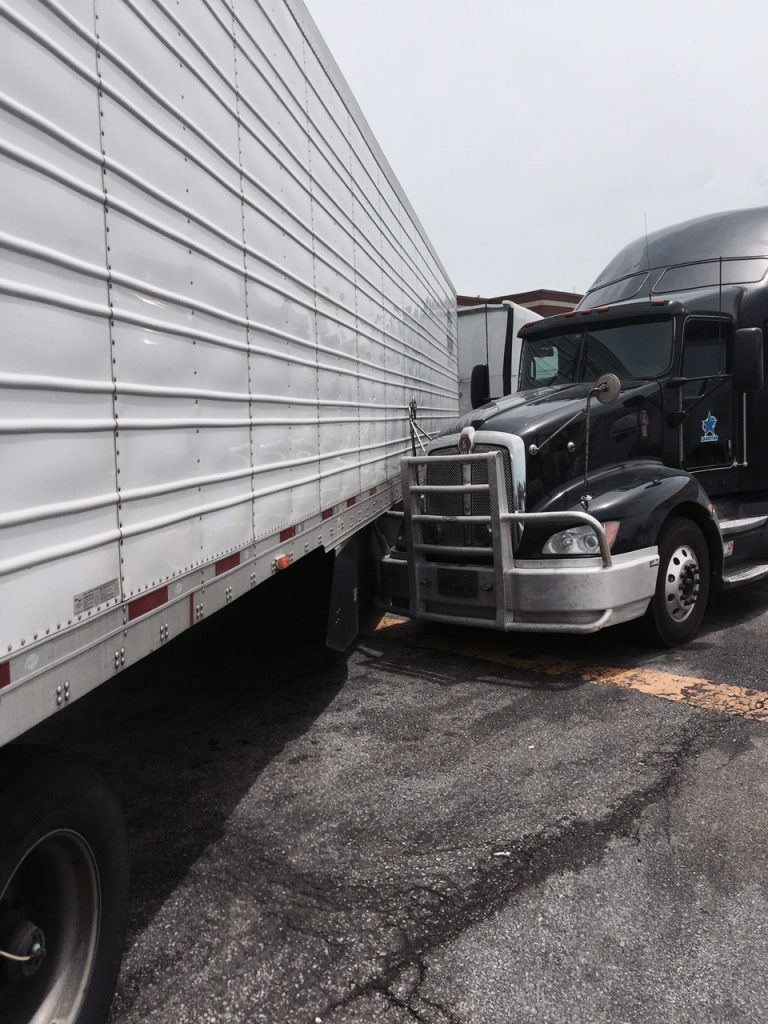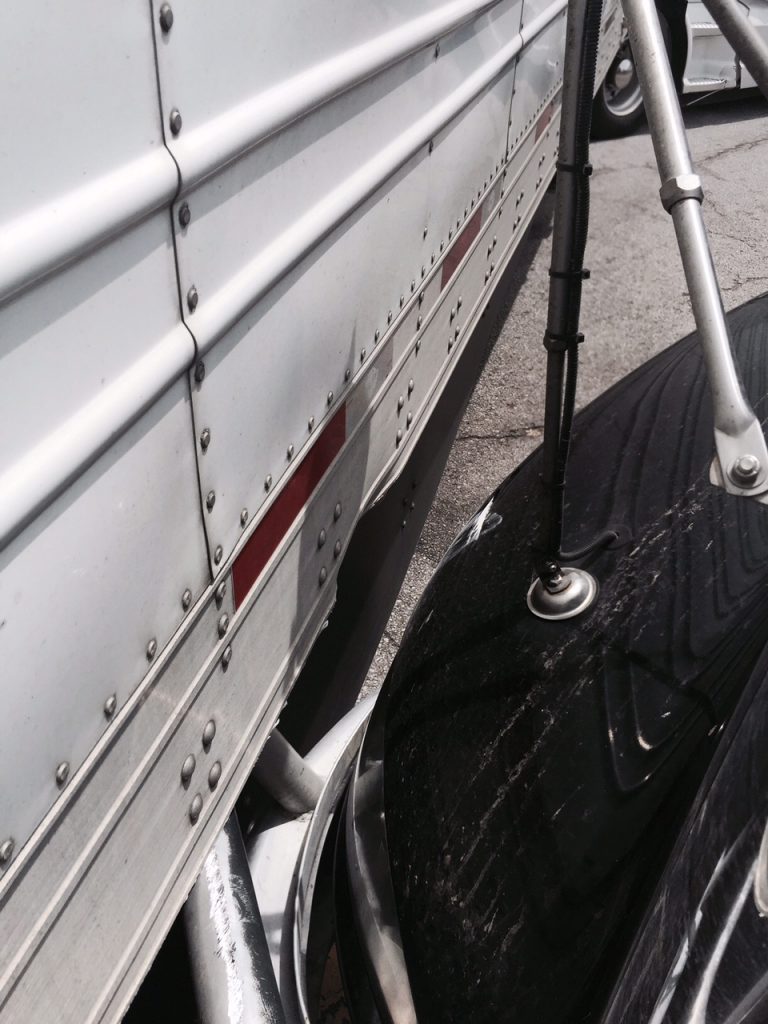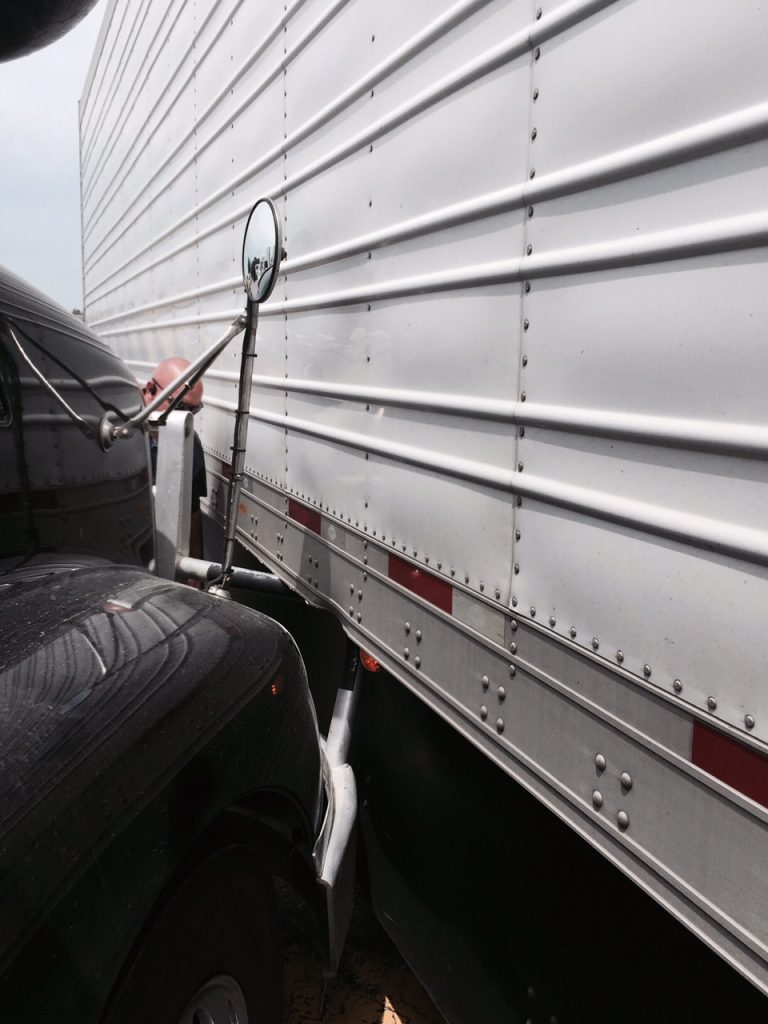 ---
"I just wanted to tell you at ALI ARC what a great product you have. I own a 2007 Kenworth t600 and have had the ALI ARC bumper on this truck for maybe 6 years. 7 deer strikes later the is no damage to the truck at all. My new 2016 t660 will not leave my yard without an ALIARC bumper on it."
"Thank you all at ALIARC for building such a fantastic product."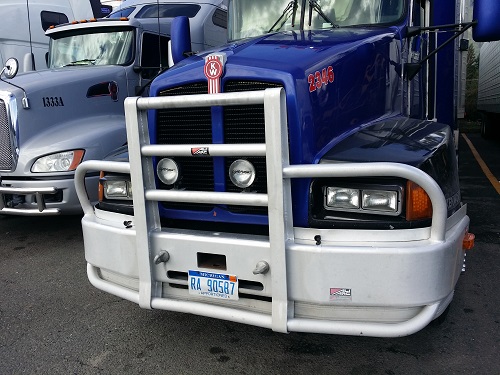 Dean and Anna Ulricksen
---
"We were in a traffic stoppage on I80 in Nevada. We left about 25 yards distance between us and the vehicle in front of us. The driver in the other truck got out to check the situation. In doing so, he forgot to set his brakes. "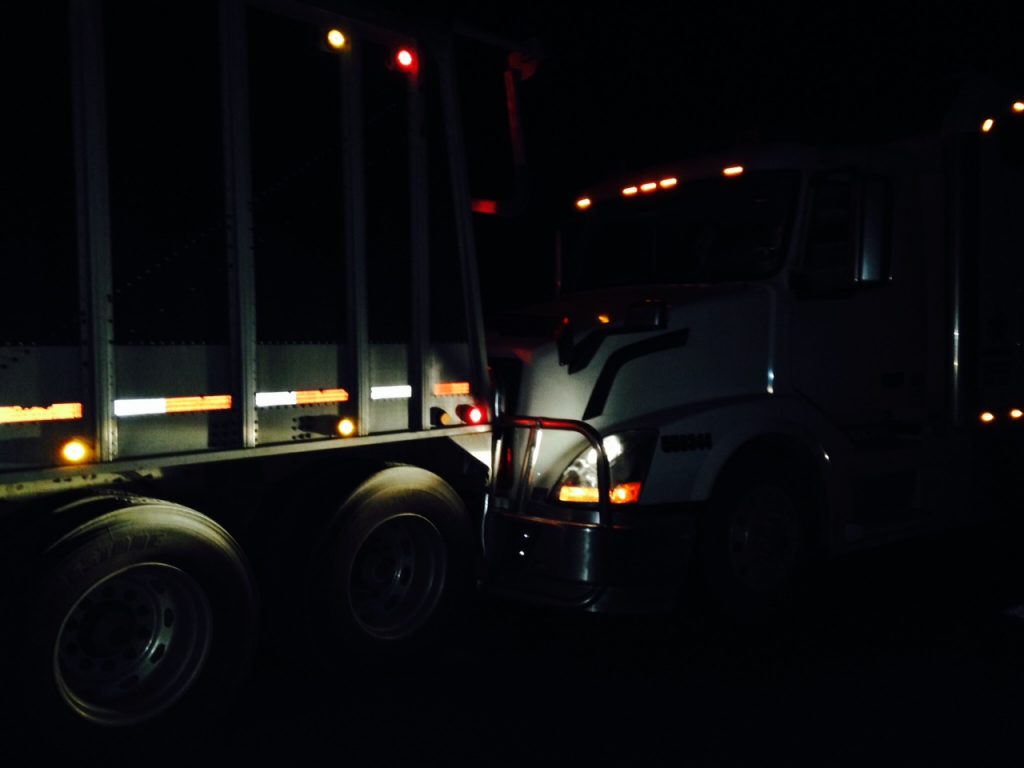 "His fully loaded trailer rolled into us at a pretty good clip. The impact was strong enough to knock us back a couple feet. Our Ali Arc Bumper absorbed the impact with only minor damage to the hood and grill. Nothing was leaking and we were able to drive away from the scene."
"Thanks for building such a great product!"
William and Casey Bergman
Landstar Team
---
"Several years ago while hauling crude oil on a dark, cold, and icy highway in the Glyndon AB area I was unfortunate enough to strike and kill the biggest cow moose that I have ever seen. The moose exploded out of the ditch from my left. Something must have scared her. I suppose I was doing between 90 and 100 kames per hr. at the time. Tried to slow but road was glare ice, did not want to jackknife. She made it about half way across the front of my Western Star when I struck her side on. I remember seeing her hind end being level with the top of my hood. That's a big moose ! The Ali Arc full " Room Bumper" drove her into the right hand ditch. I've never felt an impact like that, and never hope to again. I was loaded to 46,500 kgs at the time. I fully expected the front end of the truck to be "frigged" at best. It was my bosses truck, downtime is very expensive, plus he had no extra truck to keep me employed if waiting for repairs. To my great surprise, I never even lost a headlight, only damage was upper bumper bent back about 2- 3 inches. Didn't, even crack the aluminum. WOW !"
"Thank-you Ali Arc for preserving my wages and bosses only truck."
"Bumper remained on truck until truck was traded several months later."
Dick Thomas
Cold Lake AB
---
"Thank you, Ali Arc, for a great bumper!! I as a driver have hit two deer at the same time at 68 mph with no damage to the truck butt today I am writing this for a fellow driver that drives for our company. This team truck was in Montana on I-90 and it was at night and our truck hit a cow elk at 65 mph!! The driver stopped to check for damage and just found that the grill had a crack in it as you can see in the pictures that I have attached."
"Thank your team for us."
Mike C.
Dyno Nobel Transportation Inc.
---
"Ali Arc bumpers have protected the truck in many cases. We have Ali Arc bumpers on all of our trucks. They have saved a lot of down time and repairs. Drivers often tell me that they have hit 1 to 7 deer a year and keep on going. Ali Arc has been a good investment for us at Foltz Trucking."
Don Okeson
Service Manager
Foltz Trucking
---
"Over the past years, we have been using Ali Arc bumpers on our highway trucks. We are completely satisfied on our return on investment. In the event of a collision, we have dramatically decreased our downtime and repair costs. Value for the dollar compared against competitor products is excellent. Ali Arc bumpers are a must for our trucks, I will not put a new truck to work until a bumper install is complete."
Kevin Small
President
Agri-Tel Transportation Inc.
---
"It was a cold dark night and I was driving down highway 93 south of Twin Falls ID. It was about midnight and it was pitch black outside. I was chugging along doing about 60 mph and then out of nowhere I saw this big white cow in my lane. I moved left and to my surprise there was a whole herd of black cows in front of me. I had no choice but to keep going straight and plow right through them. Eleven cows were killed on impact-five had to be put down. I was amazed at what I had just hit, it was likeI had just hit a brick wall. I was still moving forward which I could not believe. I pulled over to the side of the road to assess the damage to the vehicle. My Ali Arc had damage to the tubes over the headlights the bumper was bent and there was hood damage and the passenger side headlight completely destroyed. I believe that if I had not had an Ali Arc on the front of my truck it would have been written off for sure-not a question in my mind. I also would have not been able to continue on with my load in fact I would have been stranded on the side of the road in the middle of the night waiting for a tow truck."
"Jerke is proud to run all of their trucks with Ali Arc on them."
"Thank you Ali Arc for providing a product that works and in my eyes is something that our company can not run without."
Larry
Jerke Livestock Inc.
Miles City Montana
---
"Kevin, We had a customer here that hit 5 cows with one of your guards. The only damage to the truck was both headlights. We have a very satisfied customer with your product!!"
Mike Warburton
Parts Manager, Doonan Peterbilt of Great Bend
---
"Thanks to Ali Arc bumpers, we have reduced our insurance cost considerably over the last few years. Since we installed them, we have hit at least a dozen deer and not more than 4000.00 total damage. I believe this is one of the best investments we ever made. Not only do we save money on actual damage, but also on the down time. Since the install we have not had a single unit miss a load or lose miles due to hitting wild life."
"Thanks, Kevin."
Clancy Unger
Maintenance Manager
Funk's Livestock Transport Ltd.
---
"I would like to thank your company for a good product. I drive a log truck and a car pulled out when I was 100 feet from them and hit them at 50 mph. Car was junk, truck was fine, no one killed. If I did not have your bumper I would of drove over them and could of killed all of them."
"Thanks for a great bumper."
Gary Walvoort
---
"Dear Ali Arc,
one of my trucks was involved in a collision with a pickup truck pulling a trailer with a four wheeler on it. The pickup truck, trailer, and four-wheeler were all totaled, as was my semi-trailer. Luckily, no one was seriously hurt. I believe your bumper helped reduce risk of injury to my driver, and reduce the damage to my tractor."
"The truck is a 2003 Kenworth W-900L and would have sustained more damage than the $30,000.00 it had, if not it would have been totaled. I thank you, my driver thanks you, and I'm sure my insurance company thanks you also, although; they probably won't admit it because then they might have to lower my insurance rates due to the truck damage savings to them. Anyways, thanks for a great bumper, and I will recommend your product everywhere I can."
Thanks,
William C. Covington
Covington Transport Inc.
"Hi Kevin, I just wanted you to know we just installed the bumper on the W900 and we are so impressed with the quality! I spoke with the owner and he wants a cost breakdown of 3 to 6 bumpers. These bumpers would be for our Peterbilt 389's and the 2 post model. I know we talked before regarding shipping cost but we were hoping if we order as many as 6 it would lower the costs. It's very refreshing in this day and age to get a quality product that doesn't require modifications to work and looks great. By the way, your people that pack them up do a great job as well! I look forward to hearing from you. Thank you!"
"So impressed with the quality!"
Tim Gerken, Maxx Transport LLC.
My family has used your bumpers on our pick up trucks for several years. On February 2 of 2022 my dad was in an serious accident when a person in a ram 3500 ran a stop sign and hit my dad's ram 3500. Both vehicles were traveling approximately 55 to 60 miles an hour at the time of impact. I am a firm believer that my dad is still alive today because of his AliArc bumper. When the other vehicle struck my dad I believe the AliArc bumper deflected the pick up down the side of my dads truck. If the factory bumper would have been on his truck, I believe the steering column would've been pushed straight into his chest. Thank you to all of you at AliArc for building such a sturdy but yet stylish bumper.
Thank you!
The Arneson family in Belgrade Montana