The trucking industry is continuously growing. If you are thinking about starting your own trucking business, look no further as we have some great tips and hints below to get you started on a path to success.
Do the Research
The trucking industry has profitable potential, but making smart business decisions is different than deciding where to stop for fuel when you are on the road. When starting your business, you must think about the practical trucking part but also the business side of your company. Some great questions to ask yourself before you get started might be:
Where is there an industry gap, how can I fill it? Hypothetically, if there were apples that needed to be transported and no one was delivering them, that might be the niche part of the industry to consider.
Once you have decided which niche to fill you should ask, will I need any special equipment? What rate is the industry standard? What kind of risk is associated with this niche?
Do you have a network that will support your business? If not, how can you develop it?
Funding your Business
On average, to start an owner-operator trucking business it will take somewhere between $10,000 – $30,000. There are many variables that can contribute to start up costs such as where you live and what equipment is needed. Take time to consider how much money you will need to get started and where it will come from. You must also think about operating costs, in the beginning, cash flow could be an issue. It will take a large amount of upfront money to keep your truck running successfully. Fuel, truck, license and insurance payments are some of the biggest financial burdens. Keep in mind, most invoices will not be paid for at least 15 days but could take up to 45 days. Plan ahead to ensure you have proper cash flow to meet all of your needs and have a profitable business.
Growing your Network and Hiring Drivers
One of the key ways to grow your network is by fulfilling shipments on time and in good condition. Word travels fast in this business, so as you satisfy your clients, they will tell their friends and more opportunity will come. In the beginning you may consider using load boards and brokers but keep in mind they do keep a piece of your profit at the end of the day.
As your business grows, you may want to look at hiring other drivers to expand what needs you can meet within the industry. This can be risky but also profitable. When you are hiring someone, it is best to go with someone you know or a colleague has recommended. If that is not possible, it is important to understand their history and have proof of it. Once you have a thriving employee, be sure they are satisfied with their job. Plan to be able to provide them with competitive compensation and keep the lines of communication open so that you know they are happy and fulfilled with the position.
In the end, spending time planning the future of your business and understanding industry needs will help you to grow a thriving trucking company.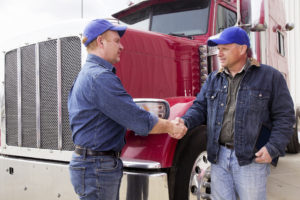 Please note: This article has a lot of information in it. These are guidelines only. If you need help starting your own business, please seek professional help.
RESOURCES
https://www.comcapfactoring.com/blog/how-to-make-a-successful-trucking-company-one-important-tip/
https://blog.keeptruckin.com/cheat-sheet-starting-trucking-business/