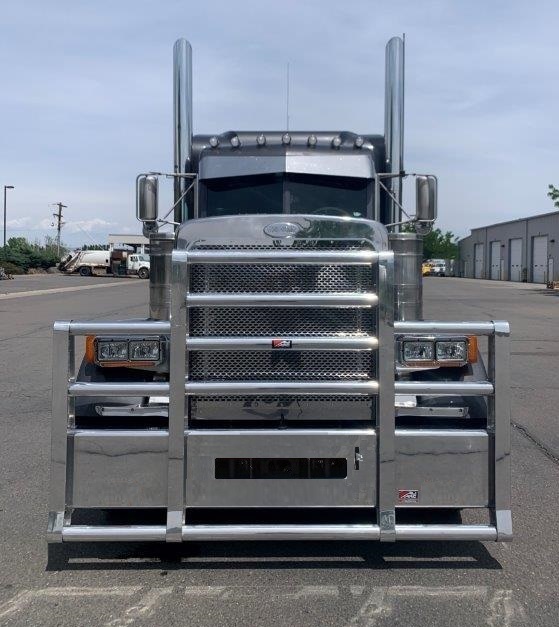 An Ali Arc truck bar is the best collision protection available for your vehicle. We have gone to great lengths to design and build a bar that looks good without compromising strength and purpose. You can be sure that your investment is protected.
Select your language below, to download our brochure.
Features
Available for virtually all trucks, each unit comes with the following.
PATENT PENDING STEEL MOUNTING BRACKET AND TILT SYSTEM
VERY STRONG SINGLE PIN STEEL TOW HITCH
HALF INCH HIGH TENSILE ALUMINUM BUMPER
HIGHLY POLISHED, MARINE GRADE ALUMINUM TUBE WORK
INSTALLATION INSTRUCTIONS AND WARRANTY
1/2″ wall thickness extruded high tensile aluminum bumper
1/4″ wall thickness marine grade tube
2 1/2″ diameter tube
1/4″ 'I beam' uprights, welded both sides
Integrated centre tow hitch and easy access tilt system
Removable tow pin
High pressure cast logo eyebolts
Lightweight 260lbs – 340lbs
Tested and proven original designs
2 or 4 post options available on certain models
12″ or 16″ bumper on certain models
Gallery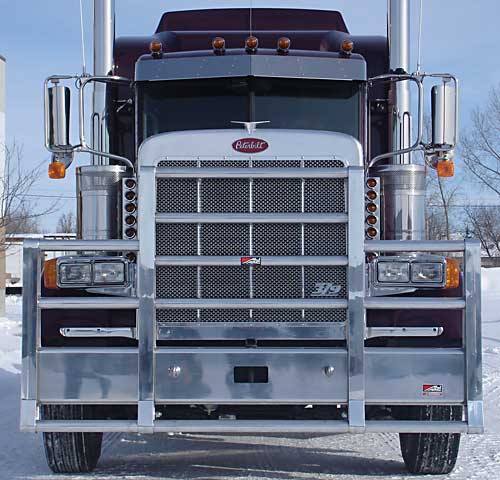 Part Numbers
| SKU | Description | Shape | Weight (lbs.) |
| --- | --- | --- | --- |
| PB108B | PETERBILT 330 SBA | Curved | 280 |
| PB110B | PETERBILT 340 SBA, 2006 – UP | Curved | 265 |
| PB111B | PETERBILT 337 – 348 SBA 2011 UP | Curved | 265 |
| PB119B | PETERBILT 357/378 SBA, 2002 – UP | Angled | 315 |
| PB114F | PETERBILT 359 SFA | Straight | 295 |
| PB133B | PETERBILT 362 CABOVER SBA | Straight | 310 |
| PB133T | PETERBILT 362 CABOVER SBA 16″ BUMPER | Straight | 310 |
| PB125F | PETERBILT 365, 367 SFA, 2007 – UP | Straight | 295 |
| PB120B | PETERBILT 367 SBA, 2008 – UP | Angled | 315 |
| PB121B4 | PETERBILT 367 SBA, 2008 – UP 4 POST | Angled | 320 |
| PB121F | PETERBILT 567 SFA 2016-UP | Straight | 320 |
| PB121B | PETERBILT 567 SBA 2014-UP | Angled | 320 |
| PB122F | PETERBILT 379,357,378 SFA 119″ BBC | Straight | 295 |
| PB122F4 | PETERBILT 379,357,378 SFA 119″ BBC 4 POST | Straight | 295 |
| PB122T | PETERBILT 379,357,378 SFA 119″ BBC 16″ BUMPER | Straight | 330 |
| PB122T4 | PETERBILT 379,357,378 SFA 119″ BBC 16″ BUMPER 4 POST | Straight | 340 |
| PB122E | PETERBILT 379,357,378 SFA 119″ BBC EVOLUTION | Straight | 320 |
| PB129B | PETERBILT 579 2013-UP | Angled | 320 |
| PB129E | PETERBILT 579 2013-UP EVOLUTION | Angled | 320 |
| PB130B | PETERBILT 386 SBA | Curved | 315 |
| PB130E | PETERBILT 386 SBA EVOLUTION | Curved | 320 |
| PB131B | PETERBILT 587 SBA 2011 – UP | Curved | 320 |
| PB123T | PETERBILT 388, 389 SFA 16″ BUMPER, 2008 – UP | Straight | 350 |
| PB123T4 | PETERBILT 388, 389 SFA 16″ BUMPER 4 POST, 2008 – UP | Straight | 360 |
| PB729BC | PETERBILT 579 2021-UP W/CAS | Angled | 320 |
| PB729BCQ | PETERBILT 579 21-UP C Q NO LGTS | | |